Matt Snyder
Hunting Dall sheep since 1978, Matt has guided sheep hunts since 1990. He is an experienced Alaska bush pilot and will be providing transportation from the home base to the hunting grounds. He holds both a private and commercial pilot license with thousands of bush flying hours. Matt along with his mom Sue and his step-dad Frank, photograph, study, scout, and hunt the sheep of the Tok Management Area year round. This family's passion for Dall sheep hunting is legendary among professional hunters throughout Alaska and the entire U.S.. Matt learned from some of the best, and is well respected in the guiding field with a trained eye for trophy Dall Sheep. He has guided or assisted in over 80 successful hunts for Dall sheep. 18% of these rams were 40" or better. Matt participates in the local wolf control program developed by the Alaska Department of Fish and Game. He also participates in local fish and game advisory committee meetings designed for public input on regulations.
Frank Entsminger
Dall sheep hunting in Alaska since 1962, guiding since the late 1960's Frank has hunted in what is now the Tok Management Area since 1969. Guide, taxidermist and wildlife sculptor, he has spent hundreds of hours annually in the field studying sheep habits. Frank is well known among professional hunters and taxidermists as a Dall sheep expert. In 2008 Frank received the Foundation for North American Wild Sheep "Guide of the Year" award. Frank Entsminger's name was synonymous with the 40" rams across Alaska when Matt was still a young boy. Frank has guided or assisted over 200 successful sheep hunts. 20% of these rams were 40" or better. In 1974 when the Alaska Department of Fish and Game established the Tok Management Area Frank was instrumental in developing public support for the trophy management concept. He has served for 15 years on the local fish and game advisory committee, including 7 years as chair, and currently continues to serve.
Sue Entsminger
Hunting sheep since 1975, Sue has been guiding sheep hunters since 1990. A capable hunter and packer Sue's abilities oftentimes surprises the clients. Trapping and sewing fur gives Sue the unique ability to care for your trophy as well. Sue Entsminger has been hunting sheep right alongside Frank gaining her own reputation as an experienced sheep hunter. Sue has guided or assisted close to 100 successful hunts for sheep. 16% have been 40" or better. Sue served from 1991 to 1993 on the State of Alaska Big Game Guide Board, 1993 - 1996 on the Alaska Board of Game governing the State of Alaska game regulations, nine years on the local fish and game advisory committee and four years on the board of the Alaska Outdoor Council. Sue is currently serving as a board member for the Alaska Professional Hunters Association.


Malcolm Griffon and Matt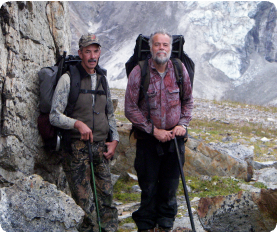 Don Snyder and Frank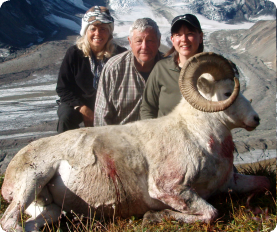 Elizabeth Gunlogson and Sue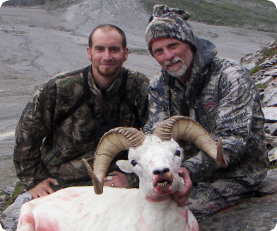 Larry Jacobs and Caleb